Welcome to Julie Siler Olander's Website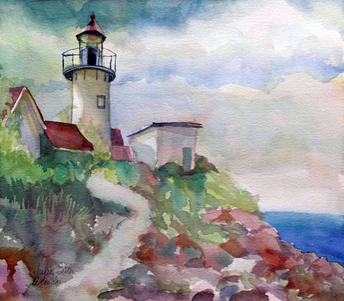 My work is about color, form, and light.
My work reflects things I am drawn to in nature, be it fruit, flowers, shells, the ocean, a marsh or the woods. I have always lived near the ocean, which may account for my desire to paint it, and whatever meets it at the shore all over the world.

Because it is so challenging, I also like to paint still life and technically difficult pieces, such as glass or people.
I draw each piece after doing a value sketch.

I paint color "as I see it." My works are known for their beautiful color combinations. Design is very important in my work. My works begin almost abstractly, and, gradually, become more realistic. I try to make people stop to look at things more closely than they ordinarily would, as they pass them by, in their daily routines.

I work in a variety of mediums, because I teach; therefore, I have had to learn charcoal, pastel, pencil, acrylic, oil, watercolor, printmaking and various other techniques and mediums. For the last 15 years, I have concentrated on watercolor. However, in the past couple of years, I have also returned to oil and acrylic.
Each one offers me unique problems and possibilities, but always a challenge to be conquered.

I am available for judging, jurying, critiques, classes, workshops and/or demonstrations in several mediums. I love to paint and enjoy sharing what I know with others—watching them in the joy of discovery!


---