Julie's Biography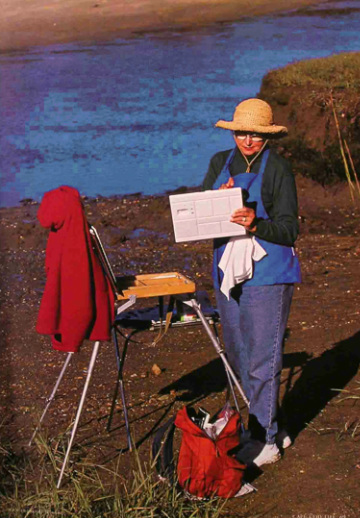 Julie Siler Olander holds a Masters Degree in Art and has received international recognition during her 30 years of painting and teaching in various mediums. She taught at the College Level in the Boston Area, and continues to teach here in Florida. Color and form are Julie's primary interests, as well as the way light affects objects in landscapes or still life. She has studied oil painting with Charles Sovek, Sam Barber, Paul George, Robert Douglas Hunter, and Greg Biolchini; her watercolor studies were with Janet Rogers, Ron Ranson, Peter Spataro, Charles Reid, Frank Webb and others.
A faculty member at Big Arts, Bonita Springs and Naples Art Associations, she is well respected for her fine watercolors, acrylics and oils. Julie's paintings are consistently selected for juried shows, where she has won many ribbons. Ms. Olander's work has been shown at the De Cordova, Fuller, Cape Cod, Cape Museum of Natural History, as well as, Danforth Museums, Boston City Hall, Cornwall, England and in St. Petersburg, Russia. Her works are in numerous art collections across the USA, Africa and Europe, and as far away as the islands of Tahiti and Mauritius.
Julie is a past member of the Allied Artists of America and is an Associate Member in the New England Watercolor Society. She is a member of the "21 in Truro" Group of Cape Cod, which has been featured at the Cahoon Museum, the Cape Cod Museum, the Truro Historical Society Museum, Falmouth Artists' Guild, and Provincetown Museum on Cape Cod. My Sister's Gallery and J. Miller Gallery represent Ms. Olander in Massachusetts.
In Florida, Ms. Olander's works can be found in several art leagues as a current member of the Alliance for the Arts, Big Arts, Art League of Bonita Springs, Naples Art Association, and Cape Coral Art League. Julie Siler Olander is now Vice-President of the Portrait and Figure Painters Society of SW FL, based in Ft. Myers, Florida. Her work was selected for the "National Women's Exhibition, Spring 2001," at the Impact Image Gallery in Buffalo, New York.
CLASSES and WORKSHOPS
Please contact the above organizations for further information on classes or workshops taught by Julie Siler Olander.
For private lessons or workshops, Julie can be reached at 239-948-9695 or at
julieolander@comcast.net
Ms. Olander is also available as a juror for art shows.
---